HIGH DESERT PONY LEAGUE
BASEBALL /SOFTBALL
CONTACT # 760-927-9994 WEB SITE www.hdpleague.com
WINTER 2016
PONY LEAGUE BASEBALL/SOFTBALL AGES 3-18
LEAGUE IS NOT ZIP CODE SPECIFIC ALL HIGH DESERT CITIES QUALIFY.
MANAGERS CAN BRING FULL TEAMS.
SHETLAND DIVISION 3-6 YEAR OLDs THIS DIVISION IS FREE YOU BUY UNIFORM. BASEBALL $105.00. SOFTBALL$90.00
*** FAMILY DISCOUNTS ARE AVAILABLE ***
GAMES PLAYED IN APPLE VALLEY SUNDAYS AND VICTORVILLE ON SATURDAY AND SUNDAY IF NEEDED. SEASON BEGINS SEPT 10, 2016.
Sign-ups and payments can be handled in advance on line
Starting JUL 1, 2016 go to www.hdpleague.com for registration information
IN-PERSON SIGN UPS
JAMES WOODY COMUINITY CENTER- 13467 NAVAJO RD. APPLE VALLEY.
MONDAYS- AUG 1, 8, 15 ,22, 29. 630PM-830PM
SATURDAYS – AUG 6, 13, 20, 27. 8AM-12PM
MOJAVE VISTA PARK-16252 BURWOOD AVE VICTORVILLE.
TUESDAYS- AUG. 2, 16. 6PM-8PM
SATURDAYS- AUG. 6, 27. 1PM-4PM
SUNDAY- AUG 14. 8AM-12PM
HOOK PARK- 14973 JOSHUA ST, VICTORVILLE.
WENSDAYS- AUG. 3, 10, 24. 6PM - 8PM
SATURDAY- AUG 20. 1PM - 4PM.
SUNDAYS- AUG 7, 28. 8AM - 12PM.
SUNSET RIDGE PARK-12808 EUCALYPTUS VICTORVILLE.
THURSDAY- AUG. 11, 25. 6PM - 8PM.
SATURDAY- AUG 13. 1PM- 4PM
SUNDAY- AUG. 21. 8AM-12PM.
********** HD captures their FIRST World Series Banner! ***********
The 12U Assassains capture World Series Silver World Series Banner at 2015 All Star Tournament.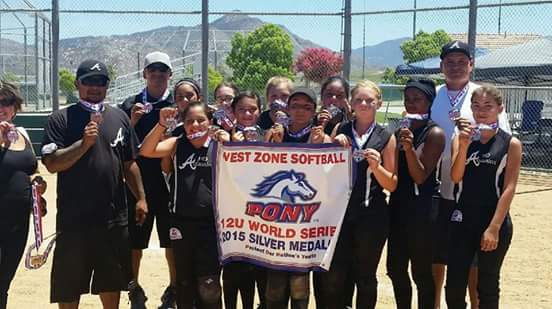 ****** U14 CRUSH FINISHES PERFECT SEASON ******
On Sunday 05/31/2015, the U14 Crush finished off their perfect 20-0 season in style by throwing a no hitter in their first game and then throwing a 1 hitter in their second game, winning each by the score of 11-0.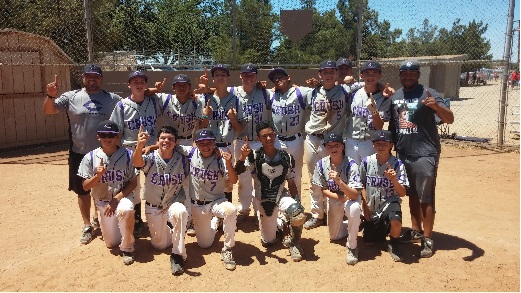 If you would like to join our league next season, sign up or contact us to find out more information. Feel free to send text!
League President:
Stephen DeCarteret: 760-927-9994
coach115@verizon.net
League Vice-President:
Zach Donaldson: 909-543-5167
zacdonaldson69@gmail.com


League Softball Vice-President:
Jaime Cerf: 760-486-4469

(text preferred)
jayleela@hotmail.com
Debbie Walls debbiewalls888@gmail.com
League Secretary:
Jeni Boulanger jboulanger236@gmail.com

Baseball Player Agent:
John Boulanger: 760-953-3476 (text preferred)
Snack Bar Coordinator:
Valerie Gutierrez: 760-684-1270
Schedule Coordinator:

Oscar Cisneros:
bossman@ucla.edu
Sponsorship Coordinator:
Bruce Gilbert: 760-412-2583 HighDesertSports@Live.com

Umpire In Chief:

Zach Donaldson
Information Officer:

Jarrod Sinclair: 760-486-8409
jsinclair15@yahoo.com
Upcoming Board Meetings:
Wed., Feb. 17 @ La Casita (VV) - 7pm

Wed., March 9 @ La Casita (VV) -7pm

Wed., April 13 @ La Casita (VV) - 7pm




Connect with us:
MANAGERS: Please Report Scores to bossman@ucla.edu - When reporting scores please include the age division, the date and the score (if the game was one by forfeit please indicate that it was a forfeit).
In order to view baseball game schedules do the following:
Click on LEAGUE REGISTRATION at the top left.
Scroll to the division that you are interested in viewing the schedule for, and click on LIVE at tye bottom of the page,
Select schedule that you would like to view. Standings are also available there.
If you would like to view only your team schedule click on the name of your team.